Spring 2022

Join us for

St. Patrick's Day


Wednesday, March 17th
5:00 - 7:00 pm
At Straw Hat Pizza
6522 E Spring St
(Long Beach, CA 90815)

UPDATE: CJ and I are currently not performing at Curley's because of the pandemic. They are not quite ready to have large groups indoors yet.

In the meantime we have found a new place to play! We have been testing it out by performing once a month at Straw Hat Pizza. They are located in the strip mall at 6522 E Spring St (Long Beach, CA 90815). Straw Hat Pizza allows us to play in their outdoor seating area right in front of the restaurant and we were very happy to use their space last year. We will continue to host occasional shows there in 2022 so if you've been missing Curley's come on down!

We have also been making "socially distant" videos of some of our favorite songs that we play at Curley's and uploading them to YouTube.


You can find them here:
https://www.youtube.com/kcavera

Stay safe and wash your hands!
– Katie
Here is one of our "Socially Distant" YouTube Videos. Enjoy!
And here we are at Curly's Cafe:
The above video was created by Fred Harshbarger when he visited us at Curley's with several cameras and a small crew. I think it really captures the feel of the place!
You can also see other things he's done at his website: www.wxyzvideos.com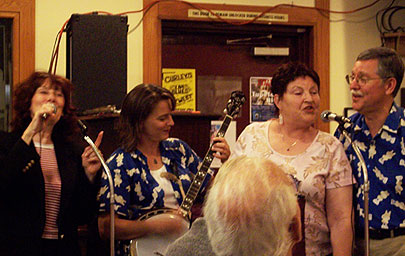 (l - r) Banu Gibson, me, Marlys & CJ Sams (David Boeddinghaus is hiding behind the piano!)
Contact me if you need any further information. - kcavera@gmail.com