September 2017

I'm going to miss the first Wednesday this month but never fear! CJ has enlisted Larry Wright and Doug Mattocks to fill in for the night and you know that it's going to be a treat! I'll be back for the following 3 Wednesdays.

On one of the Wednesdays I'll need to celebrate my birthday. Either the 20th or the 27th since my real birthday falls right in the middle of those two Wednesdays. Maybe we should just celebrate both! I'll think about it and post below once we've made a decision!

Hope to see you at the Cafe!
– Katie

CJ with Larry & Doug!
Wednesday September 6th

Wednesday
September 13th, 20th, & 27th
CJ & Katie

The above video was created by Fred Harshbarger when he visited us at Curley's with several cameras and a small crew. I think it really captures the feel of the place!
You can also see other things he's done at his website: www.wxyzvideos.com

ENJOY!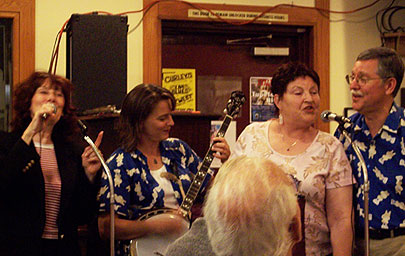 (l - r) Banu Gibson, me, Marlys & CJ Sams (David Boeddinghaus is hiding behind the piano!)
Also be sure and catch:
The Cherry Willow Jazz Band
at Curley's Cafe
Every Friday from 6 - 9 pm

Need more info? Email CJ at: mcjsams@verizon.net
Contact me if you need any further information. - kcavera@gmail.com