March 2017

More news soon! In the meantime...

St. Patrick's Day
(2 Days Early)
Wednesday March 15th

Regular Curley Nights
Wednesday March 22nd & 29th
The above video was created by Fred Cardsharper when he visited us at Curley's with several cameras and a small crew. I think it really captures the feel of the place!
You can also see other things he's done at his website: www.wxyzvideos.com

ENJOY!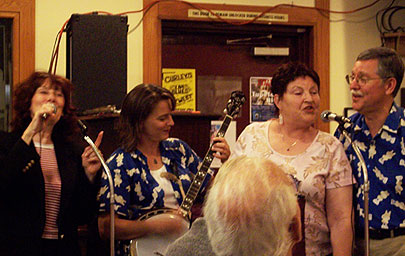 (l - r) Banu Gibson, me, Marlys & CJ Sams (David Boeddinghaus is hiding behind the piano!)
Also be sure and catch:
The Cherry Willow Jazz Band
at Curley's Cafe
Every Friday from 6 - 9 pm

Need more info? Email CJ at: mcjsams@verizon.net
Contact me if you need any further information. - kcavera@gmail.com